Getting there: 1-2h
Duration of the hike: 2,5-3h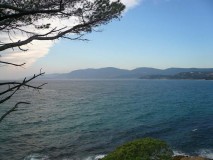 The trail from Gigaro to "Cap Lardier" south-west of St. Tropez goes along the coast within a nature reserve. The trail gives an impression of the former state of the coast outside the towns. Various bathing bays are on the way. Because of the danger of forest fire, it is prohibited to smoke on the way.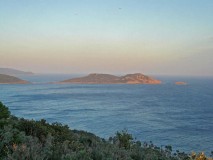 The route to get to the hike goes through Ste. Maxime, La Foux, La Croix Valmer to Gigaro. On the traffic light in Croix Valmer, turn left to get to Gigaro. In Gigaro, continue the road until it ends and then take a left to the car park. The path begins at the end of the beach (see on the map below)
Directions on Michelin map 84. The appropriate hiking map is Nb. 3545 ouest (St.Tropez Ste.Maxime) from the Institut Geographique National.