Getting there: 45min
Duration of the hike in summer: approx. 4h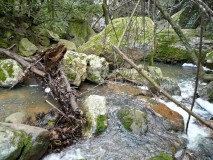 The "Gorges du Blavet" is a stream valley deeply cut into the cliffs between Bagnols en Foret and the Bouverie district of Roquebrune sur Argens. During wintertime, only a part of the canyon is accessible because of the water.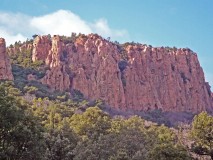 The route to get to the hike goes through Roquebrune, at the end of the town follow the direction of Bouverie, go through the town until reaching the junction with the D47 (see map below).Take a right – towards Bagnols en Foret – and drive uphill. On the top, there is a car park with panorama view on the valley (on the right) and a portion of the canyon (on the left side of the street). Drive downhill to the car park on the right hand side.
Directions on Michelin Map 84. For the hike, we recommend the map Nb.3544 est (Frejus St.Raphael) from the Institut Geographique National.