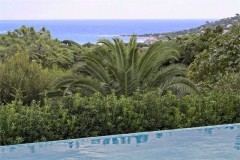 Beautiful, well kept house with 180sqm living space on grounds of 1800sqm. Roofed terrace of 65sqm. Beautiful view of the Mediterranean sea. Carport and parking on the grounds. The swimming pool measures 10m by 5m. It is surrounded by palm trees and other trees and bushes.
Roughly 1.5km from the golf course of Ste. Maxime and the beaches of La Nartelle. 2.5km to the centre of Ste. Maxime with the harbour, the market, shops and restaurants.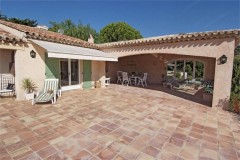 The large living room has two lounge areas, one around the chimney (with Sat-TV, CD-player and radio), the second is separated from the swimming pool terrace by sliding glass doors. Adjoining to the living room an open, interior dining room with TV and access to the roofed terrace and the kitchen, separated by a bar.The kitchen is equipped with a four flame gas hearth, a microwave oven and a separate stove, an American refrigerator and a dishwasher. Behind the kitchen lies a pantry with washing machine. One separate toilet on the ground floor.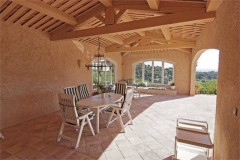 4 bedrooms, of which two are located on the ground level, one on the intermediate level and one on the first floor. The master bedroom on the ground floor has a double bed (1,6m large, 2m long)and a dressing. The other bedroom on the ground floor has a bed for one person. The intermediate bedroom is equipped with a double bed (1.6m large) and a single bed. The first floor bedroom has a double bed (1.6m large) , TV and a balcony with a beautiful view.
3 bathrooms, one on the ground floor, one on an elevated level and one on the first floor. The ground level bathroom has two washstands, a bathtub, a shower, a bidet and a toilet. The intermediate and upper level bathrooms are equipped with washstand, shower and toilet.
Image Gallery: