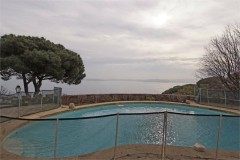 The property consists of two houses connected by a roofed terrace surrounding the swimming pool and its terrace. Beautiful view of the gulf of St. Tropez. Garage and several parkings on the grounds. Patio on the entrance side, three other garden terraces. Central heating. Internet.
About 5 min by car to the centre of Ste. Maxime,approx. 10 minutes to the beaches of the Nartelle.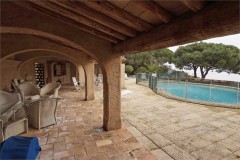 The main house has a spacious living room with high ceilings and french windows giving onto the pool terrace and a wide reaching view. In the entrance hall, an internet access is available, the living room has two big sofas, a television, stereo and fireplace. A few steps lead to the slightly lower lying dining room with french doors giving onto a lower terrace.
Behind the dining room is a toilet and kitchen with 6 cooking plates -of which 2 are electric, one oven at eye level, microwave, dishwasher and combined fridge and freezer. A staircase leads from the living room to the bedroom on the first floor. The bedroom has a double bed (160 cm large), air conditioning, a stereo with CD-player, an own balcony with sea view, a dressing room with adjacent bathroom with 2 washing basins, shower and toilet.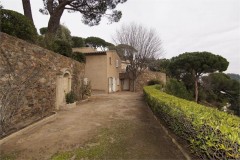 The second house has two bedrooms, two bathrooms and one toilet on each one of its 2 floors. All bedrooms have sea view, the two lower bedrooms have access to the lower terrace, which can also be used as a boule area. Three bathrooms have 2 washing basins and one bathtub, one bathroom is equipped with one washing basin and shower. One of the two bedrooms on each floor is equipped with 2 beds (80 cm large), the other with a double bed (160 cm large).Before the entrance to the house is a patio with access to a higher terrace.
Image Gallery: