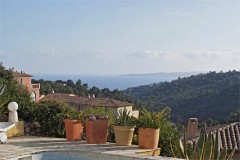 Beautiful house on three levels, perfectly adapted to wheelchair bound persons: elevator, accessible washstands in one bath and worktops in the kitchen, special toilets and an adapted shower. Hydraulic elevator for the swimming pool. The swimming pool has a depth of 1.6m. All doors (except the entrance) are sliding doors. The whole house is air conditioned. Two terraces and a balcony. Nice sea view from the pool terrace and the balcony. About 150sqm living space. The entrance is also accessible by stairs. One garage.
Approximately 2.5 km from the sea and 3 km from the shops in the centre of Les Issambres.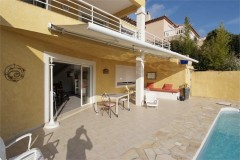 The garage is situated at the lowest level. An elevator ( door 79 cm large, cabin 134 cm deep) leads to the first and second floor. On the first floor are kitchen, living room, terraces, swimming pool and a (special) toilet. The living room (55sqm) has TV and hi-fi system. The kitchen is equipped with an American refrigerator, dishwasher, washing machine, ceramic stove top and oven. The swimming pool (8,3m by 4,5m) is located on the terrace in front of the living room, oriented south-south-west. A part of the terrace is covered. Another terrace is located near the entrance.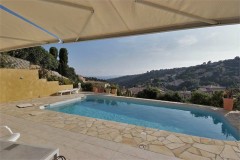 Three bedrooms and two bathrooms are located on the second floor. The master bedroom (24sqm) just at the side of the elevator has a private, wheelchair adapted bathroom and a dressing room. The bed is 180cm large and has two mattresses. Height ca. 50cm; electrically adjustable parts for feet, thorax and head. The two other bedrooms have double beds (both are 160 cm large, one is at the height of a wheelchair, the other is a folding bed) and share one bathroom with shower, washstand and toilet. All bedrooms have sea view and access to the balcony. All windows have electric shutters.
Image Gallery: